JACKSON, Tenn. (April 21, 2022) – Leaders Credit Union and WBBJ-TV hosted the Annual Multiplying Good press conference for the 2021-2022 West Tenn. recipients on Thurs., April 21, at the Carl Perkins Civic Center. Jerry Privitt, chief and co-founder of Humboldt Area Rescue Squad EMS, was selected as the West Tennessee national nominee for the 2022 Jacqueline Kennedy Onassis Award for Outstanding Service Benefiting Local Communities.
For the fifth year, Leaders Credit Union has partnered with WBBJ-TV to bring Multiplying Good's Jefferson Award to the West Tennessee community. The Jefferson Awards honors community champions who are "ordinary people doing extraordinary things without expectation of recognition." The awards are given at both national and local levels. Since May 2018, a new honoree has been selected each month locally. Recipients are nominated by their peers and selected by the Jefferson Awards/Multiplying Good committee members of West Tennessee. Our 2021-2022 West Tennessee winners include:
Almae Chappell: Jackson, Tenn.
Hank Shackelford: Jackson, Tenn.
Patrick Parham: Jackson, Tenn.
Virginia Conger: Jackson, Tenn.
Sharon Tubbs: Jackson, Tenn.
Jerry Privitt: Humboldt, Tenn.
Linda Seaman: Jackson, Tenn.
Dusty King: Jackson, Tenn.
Ellen Deming: Jackson, Tenn.
Ijeoma Oleru: Jackson, Tenn.
Kim Morris: Jackson, Tenn.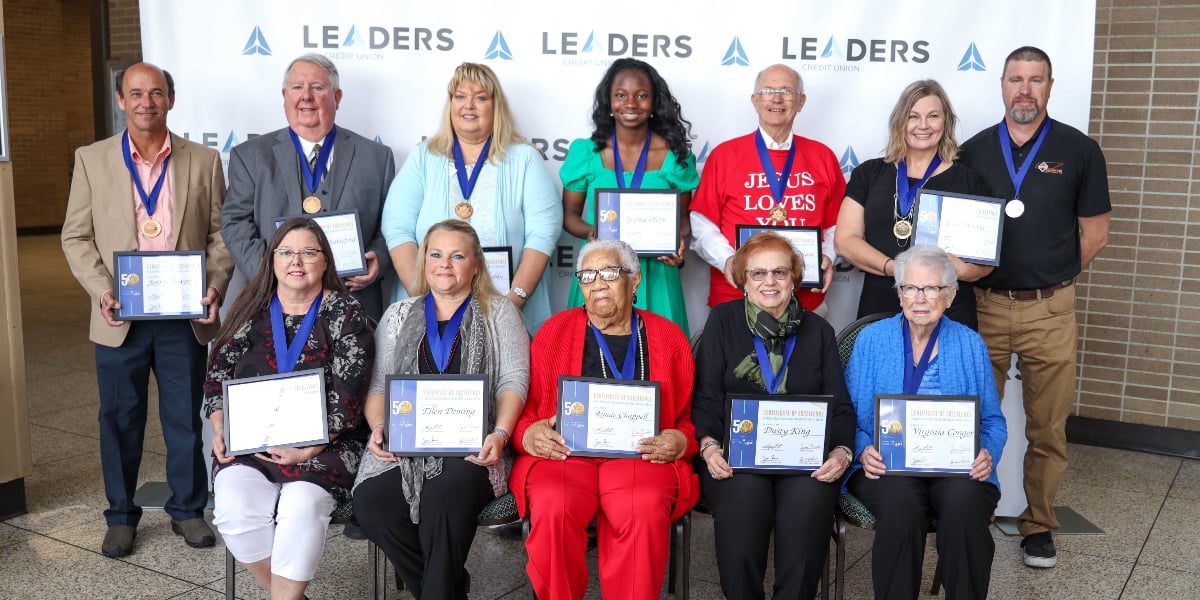 Award recipients are volunteers and champions for numerous charities and causes across West Tennessee, including youth mentorships, community events, elderly service, homeless service, animal rescue, emergency response, and beyond. A video package for each recipient can be viewed by visiting the WBBJ-TV website.
"At Leaders, we are honored to champion our own community heroes and are been blessed to hear each genuine story and witness their passion of how they advocate for positive change," said Todd Swims, President and CEO of Leaders Credit Union. "Along with WBBJ, we are honored we've had the opportunity to shed light on community members who help us move forward and make lives better."
Jerry Privitt of Humboldt, Tenn., was selected as the West Tenn. national nominee for the Jacqueline Kennedy Onassis Award representing the greatest possible service to a local community by a private citizen. The national Jefferson Awards event will occur in June, presented in Indianapolis, Indiana.
Privitt is the co-founder and chief of the Humboldt Area Rescue Squad, a volunteer emergency rescue team dedicated to the Humboldt Community. Privitt began the Rescue Squad over thirty years ago and has devoted his time and livelihood as the first responder to thousands of calls for assistance.
"Multiplying Good is very honored to partner with Leaders Credit Union and WBBJ-TV to bring the awards to the West Tennessee community and to celebrate the accomplishments and service of local neighbors," said Brady Tanner, Senior Director, Recognition Programs at Multiplying Good. "We are excited for this year's national nominee and look forward to celebrating Jaunita through our national event."
If you would like to nominate a champion in your community, visit leaderscu.com or www.wbbjtv.com and follow the prompts.
About Leaders Credit Union
Leaders Credit Union is a member-owned financial cooperative headquartered in Jackson, Tenn. As one of the largest and most stable credit unions in the nation, Leaders exists to serve the needs of its members and lead the way on their behalf. Leaders was awarded the Best Place to Bank by Jackson Sun's Readers' Choice and is placed in the top 1% of credit unions nationwide by depositaccounts.com. Leaders is an Equal Housing Lender and is federally insured by the National Credit Union Administration. For more information about Leaders Credit Union, visit the website.
---